Returning to Routine Care as COVID-19 Cases Flatten
As of June 1, patients are not yet rushing back to medical offices and facilities to receive delayed and needed in person care in most parts of the U.S. Media images of doctors, nurses, and other essential health care workers covered in protective gear from head to toe may inadvertently fuel patient fear. Masks and N95 respirators will be ubiquitous among patients and health care workers for the foreseeable future, yet these and other visible hygiene measures may not reassure some patients to resume in-person care in the near term. Physicians are growing concerned.
A team of researchers from Harvard, using proprietary data from a health technology company, found that, early in the pandemic, visits to ambulatory care practices declined by 60%, with some of that decline offset by a rapid increase in telehealth visits. More recently, the same data source indicates that in-person ambulatory care visits have rebounded but remain roughly one-third below pre-pandemic rates as of mid-May.
Emergency department visits for non-COVID 19 illness dropped sharply during the period of surging cases and stay-at-home orders. Researchers at Kaiser Permanente found that the weekly rate of hospitalization for acute myocardial infarction fell by almost 50% during the COVID-19 period of March 4-April 14, 2020 when compared to an earlier period in 2020 and the same period in 2019 among patients in their Northern California region.
Encouraging Patients to Seek Timely, Needed Care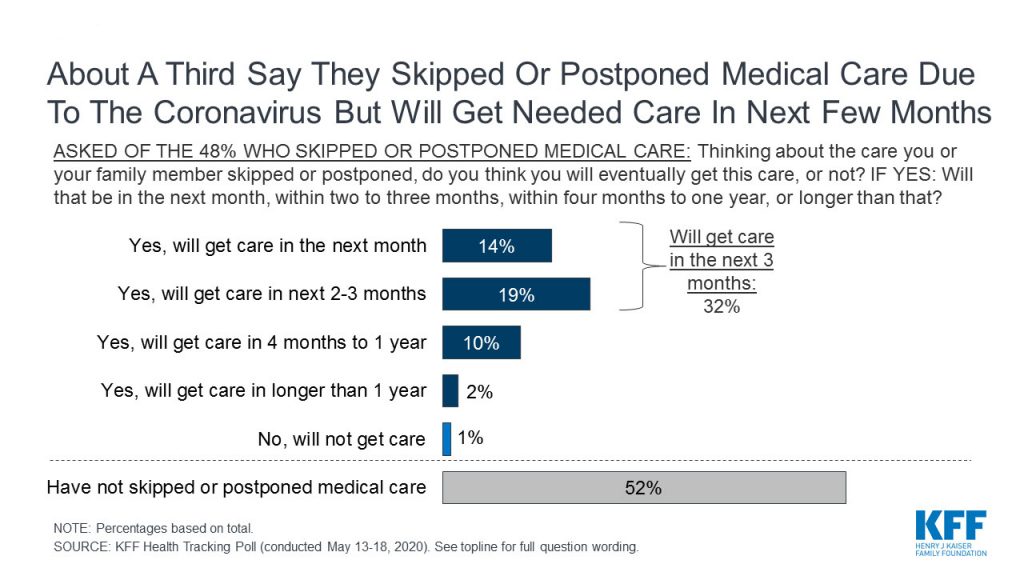 Now that state and local public health leaders have lifted limitations on elective and routine care, what can physicians and health systems do to provide safe access to needed care and reassure patients? Physician leaders at Henry Ford Health System are using social media to inform their community about the steps they're taking to keep them safe as they seek care. The Cleveland Clinic has a similar message for patients. Ochsner Health has tailored messages for transplant patients to encourage them to stay on track for both pre- and post-transplant care. As a large integrated health system, Kaiser Permanente is taking an approach that stratifies patients by risk, optimizes system capacity, equipment, and safety, and incorporates patient shared decision-making.
Removing Financial Barriers to Care
Are financial barriers adding to patient concerns about safety as they consider returning for needed in-person preventive care, procedure-based care, and even emergency care? Physicians themselves may waive cost-sharing for telehealth services for Medicare beneficiaries during the COVID-19 pandemic emergency without risking sanctions from Medicare, but what more can health plans and employers do to reduce real or perceived economic barriers to care?
Economist David Cutler, writing in JAMA Network, notes that more than one-quarter of those with private insurance have an insurance policy with a deductible of $2,000 or more, four times higher than the percentage of people who had an equal deductible decade ago. Cutler predicts that people will postpone all kinds of care, from office visits to imaging procedures to filling prescriptions for medications. Mounting evidence suggests high deductibles are a barrier to needed care for lower income patients, and those with chronic conditions and cancer. High deductibles also raise administrative costs and bad debt for medical practices. People who may lose employer-sponsored coverage and transition to Affordable Care Act (ACA) coverage, even if eligible for ACA premium subsidies, may have to meet a new deductible.
While employer-insured patients may want to continue to delay care due to cost, a growing number of Medicare Advantage health plans are waiving cost-sharing for seniors in such plans to encourage them to seek needed care:
Will These Actions Be Effective?
Such health plan actions to waive cost-sharing align well with the interests of physicians to ensure that patients do not delay needed care, but only time and data analysis will tell us whether these actions will help promote utilization during the expected extended mitigation and suppression time period of the pandemic.