Systems for Addressing Mental Health and Social Needs: The Permanente Medical Group's Journey
By Stephen Parodi, MD
An aging population faced with myriad personal, social and financial issues puts considerable pressure on health care providers to manage their patient population. Physicians and care providers who are supported by technology and integrated care delivery are better poised to tackle this challenge than others.
Meet Mary M, a patient challenged to manage her multiple chronic conditions while facing an unstable living situation and difficulty paying her bills. By asking Mary some simple questions, and analyzing her responses in conjunction with clinical data, The Permanente Medical Group is enabling our care teams to intervene earlier and tailor care to help Mary achieve her health outcome goals.
Coordinated care
Coordinated care is one of the foundational pillars that unites the medical groups of Council of Accountable Physician Practices. We also share a focus on population health, and are leveraging our electronic health record platforms to incorporate powerful data analytics to build next generation tools for better care.
These tools enable teams to be more effective at managing chronic disease by providing more personalized and timely care. An example from Geisinger's health system can be found here, and one from HealthPartners here. This blog highlights a new program from my medical group, The Permanente Medical Group, called the Care Plus model.
Improving outcomes with predictive analytics
At The Permanente Medical Group, we share an electronic health record across a large region serving 4.2 million members in Northern California. Our pre-paid structure gives us the flexibility to leverage our budgets for improvements where needed. For this project, we included sophisticated research and analytic capacity, along with subject matter experts and internal consultants to guide our improvement work.
Primary care physicians are critical to success when it comes to disease prevention and management. To improve outcomes for patients with the most complex needs, predictive analytics that allow for prospective identification of patients at risk for emergency department visits and hospitalization are required.
We have stratification algorithms incorporating a wider range of data that allows for personalized interventions to address medical, behavioral and social determinants of health. We can better target the right resources and teams to the right patients, in the right settings. Our predictive analytics indicate that our patients with the most complex needs overwhelmingly (82%) have high mental health or social needs.
Care Plus
We currently have six care teams piloting services across three of our service areas in Northern California. The early results are encouraging and indicate high member satisfaction and engagement, and higher morale of primary care physicians.
Care Plus is designed to address one component of disease progression. Episodic and short-term needs for navigating care and addressing social needs can be addressed mostly by social workers and registered nurses with limited visits and even by telehealth. If substantial health decline occurs or more intensive psycho-social case management is needed, the Care Plus team is called into action, providing more intensive support while keeping the patient empaneled with their primary care physician. If the patient's needs progress, other specialty consultations, along with palliative care, are available.
We plan to evaluate the health and cost outcomes results of this pilot after 18 months from the start the program. It takes that long to make a difference after onboarding and evaluating the patients. Furthermore, we will be comparing the Care Plus pilot patients with matched controls at other medical centers who are receiving "usual care."
Additional models to consider in the future will be patients who are so ill that they cannot come in and might require long term home care.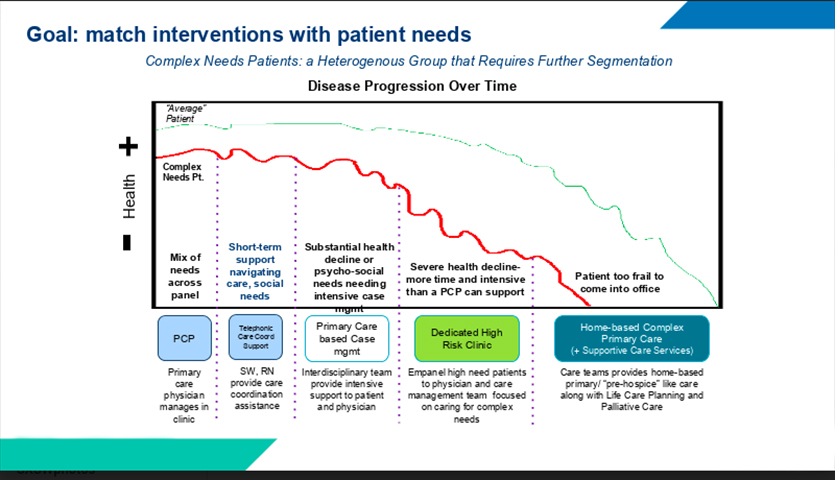 Incorporating different care models
Being open to the possibility of incorporating the different models seamlessly into our existing care landscape will be important. With early positive feedback from both patients and teams, we know we are on the right track to improve outcomes for, and improve partnerships with, patients with the most complex needs and challenges.
This example clearly illustrates how the five CAPP pillars of accountable care — physician leadership, HIT, care coordination, quality measurement, and outcomes-based payment — work together to not only address the physical needs of our patients but also social and mental factors that impact health. This is what the future of medicine can look like, with the proper policy and financial incentives.